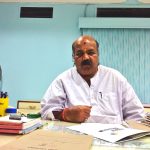 Bhubaneswar: The Odisha revenue & disaster management minister, Maheswar Mohanty, Tuesday said that the chief minister Naveen Patnaik will take a final call on the drought situation in the state on October 30, 2017 while stating that  paddy cultivation in over 3.15 lakh hectares in 70 blocks of Odisha's 15 districts has been severely affected due to deficient rainfall this monsoon.
Mohanty said that the crop loss has been estimated based on a field survey and the final report will be given to chief minister Naveen Patnaik after October 30, 2017. The chief minister will announce assistance package for the affected districts but the farmers who are hit will get aid without waiting for the reports on crop harvesting, he added.
"The crop loss has been reported from 3,15,436 hectares in 1,125 gram panchayats under 70 blocks in 15 districts across the state," Mohanty told reporters after district collectors submitted crop loss report due to deficient rainfall.
According to him Bolangir, Bargarh, Dhenkanal, Boudh and Nuapada are the most affected. Bolangir district has reported maximum crop loss as 14 blocks are affected followed by Bargarh where 10 blocks are hit, he said.
The state special relief commissioner Bishnupada Sethi said the state government has received reports from the collectors of affected districts. They are being examined and the government will declare the affected areas by October 30.