Bhubaneswar: " Prime Minister Modi will retain power in 2019″. This is what says his horoscope.
Modi will win the 2019 Lok Sabha elections and will continue as the prime minister of India, opined many astrologers who read his horoscope .
The two-day Asian Astrologers' Conference, which was concluded, here on Sunday, inferred that Modi is going to retain his prime ministership. The Conference, which was attended by over 500 astrologers from India and abroad, discussed over the horoscope of Modi.
Modi is a scorpion. Anuradha Scorpion. 17/8 Lagna- Mangala on Chandra.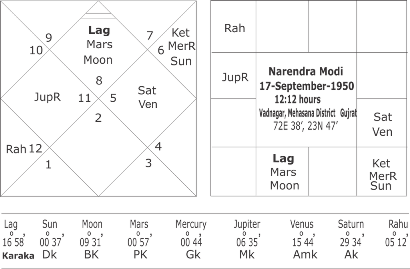 Saturday, on the opening day of the conference, the first session was dedicated to Modi.  Modi's jama kundli was drawn on the white board placed on the dais and astrologers were asked to read the horoscope of the Indian Prime Minister. About 15 astrologers calculated the position of stars in the horoscope and the time and predicted about the future of Modi.
Most of them viewed that Modi's stars are moving in the right direction giving clear indication that he would win the 2019 general elections and form the government.
Bhrugu Jyotish Sridhar Acharya, who organised the conference, said that Modi's horoscope says that he would again become the prime minister of India
However, some differ and opined that Sani Mahadasha may create problem for Modi.