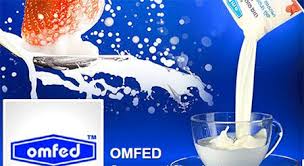 Bhubaneswar: Omfed has launched four new value added products on the occasion of Durga Puja. The new products are sugar-free sweet curd, sugar-free vanilla ice-cream, gold premium milk, and pro-biotech curd.
Launching the new products on Monday, the state agriculture and fisheries and animal development minister Dr Damodar Rout said that the new products are prepared with a eye on the customers those are highly health conscious. He said the pro-biotic curd will increase the disease resistance power of the people. Similarly, the diabetic patients now can have the taste of the Omfed sweet curd and ice-cream.
The minister said that milk production in the state would be 1 million liter by 2022. He said a 5 lakh liter milk processing plant would be set up in Arilo-Gobindpur village near Baranga in the outskirt of Bhubaneswar. The state government has already given 51 acres of land for the proposed plant, he added.
The Omfed managing director, Visahal Gagan, said that the  Omfed is also going to launch very soon some more products like mango flavoured sweet curd, mango falvoured candy ice-cream, pista kulfi ice-cream in the market.
Omfed chairperson Sarojini Mishra presided over the launching ceremony.