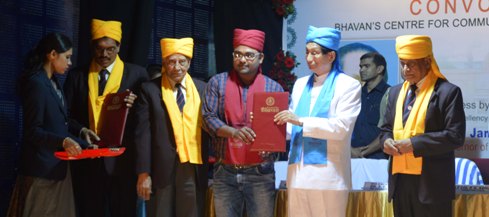 Bhubaneswar: Bhavan's Centre for Communication and Management, Bhubaneswar ( BCCM) ,  a premier  business  school of  eastern India,  celebrated  its sixth  Convocation, here on  Saturday.
Altogether 66 students received PGDM degrees and 12 gold medals were awarded to the meritorious students.   The Odisha governor , Dr. S.C. Jamir, in his   convocation address, appreciated   the glorious eight decades of noble contributions of Bhartiya Vidya Bhavan in spreading quality education and preserving the cultural heritage of the country.
The chairman of BCCM, general B.K. Mohapatra, said that emerging technologies are affecting every aspect of our life and hence scientific and technological innovations, which are key drivers for economic growth and intellectual prosperity of a nation must be achieved by all. We will be left behind if we do not cope up with emerging changes. .
Dr. Sujata Mangaraj , director- cum-dean academics, presented the director's report   and  administered  pledge  to the graduating students.
During the  convocation ceremony,  "Bhavan Samman –  Odisha"   were conferred   on   twenty   distinguished personalities of Odisha , who have excelled in   their respective field and carved a niche for themselves  in the  field of   science, academics, dance,   classical music,  literature,   industry,  and  education.  The recipients  are :  Dr Tapan Kumar Chand (industry), Dr. Raghupatruni Bhima Rao ( science), Padma Shri Prof.Priyambada Mohanty Hejmadi ( education), Mahendra Kumar Gupta ( entrepreneur) , Pandit Gopal Chandra Panda ( classical music), Padma Shri Dr. Ileana Citaristi (Odishi dance), Santosh Kumar Rana(folk arts), Ajit Narayana Das( theatre) ,  Sujata Pattanayak ( social service) and Dr. Pradeep Kumar Choudhury (astrology). The other recipients are :  Rabindra Kumar Behera (industry),Padma Shri  Pratibha Ray ( literature), Dr. Haraprasanna Mishra (science), Prof. Dr. Fr. Paul Fernandes  S.J (education), Pandit (Dr.) Chittaranjan Pani (classical music), Guru Ratikant Mohapatra( dance), Guru Badal Sikdar (folk art),, Kartik Chandra Rath( theatre), Mrinalini Padhi (social service) and  Manmath Kumar  Satpathy ( art & culture).
BCCM's senior director, Lt. Col. P.K. Sahu proposed the vote of thanks.