---
Mumbai :Taming of the Shrew will be staged at Prithivi Theater on May 8 at 4PM. A repeat show would at 8 PM on the same day.
Direction : Deshik Vansadia
Writer : William Shakespeare
Cast : Deshik Vansadia, Priyanka Charan, Jahnavi Dave, Veena Nair, Shruti Sunder, Swati Das, Kallirroi Tziafeta, Ankur Sharma, Meghana Telang, Deepmala Khera, JitenJatania, Shruti Sharma
Indian versions of Shakespeare have ranged from originals to translations, adaptations, and everything in between. Shakespeare becomes our own, as the cliché goes. Yet the pleasure of hearing Shakespeare as he actually wrote, and to comprehend him in the full scale of his drama, is a special e
xperience. Director-actor Deshik Vansadia and his team have just delivered that in the production of TAMING OF THE SHREW by Kanupriya Pandit of Killol Foundation and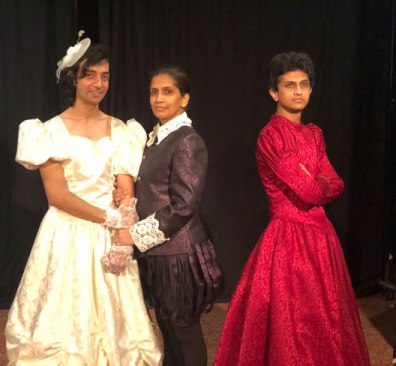 Takshashila Foundation.
Their choice of play is unusual. TAMING OF THE SHREW, although a comedy, is not among Shakespeare's more famous repertoire. It comes across as a decidedly sexist play that would turn off a lot of women these days. So what was Deshik Vansadia thinking? Very purposefully as the fine outcome shows.
Reversal of gender is not a new phenomenon at all. In fact in Shakespeare's time as well as on the Indian stage of the early days, male actors essayed female roles. That was the social norm. Then came more experimentation as the sexes deliberately inverted their gender specified roles. Today gender fluidity on stage is seen as a mature development legitimatising the LGBTQ community. Deshik Vansadia's reasons however are more straightforward and there is no overt attempt to make a point.
Rather the choice to have the men play the women and vice-versa in his production, is open to the audience to interpret as they may, but being made subtly aware of the range of unexpected outcomes that such role reversal would have had in the Elizabethan era to their more playful and sensitive nuances in modern times.
In playing Kate, the "shrew", Deshik Vansadia makes no exception either. He communicates in core the frustration of a willful, ill-tempered but nevertheless independent-minded woman who must bear the brunt of simply being born in a more conservative and orthodox time. Even her monologue towards the end of the play, which may lead audiences to think that she is "tamed" after all, is what it is, and without any guile. Kate must accept her lot for she must survive in her society. But this is merely the surface of things and there is no male victory to be had. Anybody in a marriage would know this. If anything the play ends on a sombre note.
In the meanwhile there is a great deal of robust fun to be had as the women take on the male parts. They are all very good and are obviously deriving vicarious pleasure in laying out the male bravado and the sexual innuendoes that the comedy is full of. This ability to be wanton with gender no more an inhibition gives the comedy an edge that is relished by all the actors first and foremost. Swati Das in her dashing portrayal of Kate's husband Petruchio, is supported by her splendid co-actors, who include Veena Nair and Shruti in their more mature characters as Baptista Minola and Gremio respectively.
The cast is in full throttle and their varying accents do not matter for once because they are in complete symphony with their characterisation, and more importantly with the language of the play as it were. Hence one does not think of sets or the constraint of space at the Drama School Mumbai where the production premiered. Save for a few boxes, a makeshift column, and the musical interlude between blackouts, it is the sheer skill of the actors that immerses the audience. Costumes by Sonal Kharade are picked with care and attention to this period drama.
Deshik Vansadia who is a trained Shakespearean actor says that a key motivation for the production emerged out of a disturbing experience he had at an airport where he was felt up. Later he was put off by an article that equated women's dressing and the likelihood of being sexually targeted. The article only mentioned women and he wondered how did that measure up to his own intrusive experience at the airport. Had his "dress" attracted unwarranted attention as well? It was all very ridiculous he thought.
No sex is immune to abuse and gender negotiations as we have come to better realise are tricky indeed. In the interim, productions like TAMING OF THE SHREW offer comic relief, best appreciated in context of course. Yet all good theatre has a way of communicating a little extra than what is immediately obvious.