New Delhi: The Gujarat government is in trouble as the Justice H S Bedi committee has recommended prosecution of police officials allegedly involved in fake encounter.
Justice Bedi commission has submiited its report after inquiry into 17 cases of encounters between 2002 and 2006 when Prime Minister Narendra Modi was the chief minister of Gujarat. The commission has found at least three out of the 16 were fake encounters.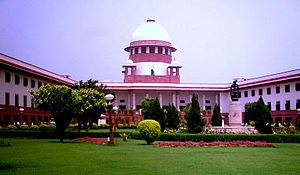 It was on a petition filed by Bollywood lyricist Javed Akhtar, the Supreme Court had appointed Justice Bedi commission to probe into the alleged 17 fake encounters that were occurred during Modi's regime. The commission had submitted its report the coutr in a sealed cover on February 1, last year.
However, the chief justice of India Gogoi after the rejected the Rajasthan government's plea to keep the report a secret and directed that the copies of the report be given to the petitioner.
The commission in its final report filed in the apex court has stated that three persons — Sameer Khan, Kasam Jafar and Haji Haji Ismail — were prime facie killed in fake encounters by the Gujarat Police officials. The committee has indicted a total of nine police officials, including three inspector rank officer. It has however not recommended prosecution of any IPS officer in these cases.