Bhubaneswar: The 5th International Dam Safety Conference–2019, jointly organised by the state and Central government in collaboration with the World Bank, was inaugurated, here on Wednesday.
Odisha water resources minister Niranjan Pujhari, union water resources secretary UP Singh graced the inaugural ceremony of the Conference.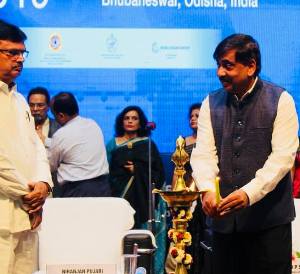 Odisha Water Resources principal secretary PK Jena said that the two-day annual conference will be addressed by over 725 dam owners, policy makers, professionals, academicians, scientists and corporate executives from India and abroad on various aspects of dam safety. About 100 overseas experts from 30 Countries representing all the major continents of the world are participating in the Conference. Also, about 150 technical papers have been contributed by experts across the world; 35 national and international organizations both from within the country and abroad are showcasing their technologies, products and services in the exhibition to be organized during the Conference, reflecting the contemporary developments in the dam safety field.
The deliberations will be spread over 13 sessions in two days.
India with 5264 large dams in operations and 437 dams under construction stands third in the world after China and US. The dams in India has a total capacity of storing 283 billion cubic meters(BCM) water.
Odisha has 10 major and 55 medium dam projects. In Odisha, 26 large dams are covered under Dam Rehabilitation & Improvement Projects) (DRIP) for rehabilitation including construction of an additional spill way for the Hirakud dam to address the hydrological safety at about Rs. 600 Crores.
Following the success of the DRIP-I, the Centre has lined up DRIP-II and DRIP-III with a total outlay of Rs 10,221 crore for rehabilitation of 700 dams in the country.
According to union water resources secretary UP Singh, the basic objective of these annual events is to give exposure to non-DRIP states as well as other stakeholders across the country and world, to the best global practices and technological advancements to address the emerging dam safety challenges.