Cuttack: Eminent literature Professor Jatindra Nayak was conferred with the prestigious Sridhar Das Samman, here on Wednesday.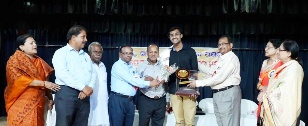 Prof. Nayak was honoured with the Award for his contribution to Odia literature. He has enriched the Odia literature by his translations works. He has translated Odia classics like Fakir Mohan Senapati's Cha' Mana Atha Guntha, Jaganath Das' Desa Kala Patra into English. As Prof. Nayak was indisposed, the Award was handed over to Prof. Nayak's son Aditya Nayak in his absence at a function, organized by the city based literary organisation Sarala Sahitya Sansad, here at Sarala Bhawan to makr the 31st death anniversary of eminent scholar Sridhar Das.The citation was read out by Dr. Sneha Mishra.
Justice Madan Mohan Das, noted play-write Sanjeet Pattnaik, Sarala Sahitya Sansad founder president Pravakar Swain, noted liquist Prof. Basant Panda, and Archana Beuria spoke on the contribution of Sridhar Das to Odia grammar.
A collection of poems titled Mahak, written by poet Pramoda Das was released at the meeting.