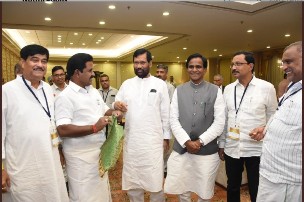 New Delhi: The Odisha food supply & consumer welfare minister, Ranendra Pratap Swain, Tuesday urged the Centre to check production of adultered food, fake medicines and duplicate goods. Unless this is checked, Make in India would not be successful, he pointed out.
The Odisha minister, quoting various survey reports, said large number people are killed in road accidents due to duplicate spare parts of vehicles. Stating that 20% of the medicines sold in the market are fake and substandard, he said patients are dying because of spurious medicines.
Swain, while speaking in the national consultative committee meeting chaired by union consumer affairs, food & public distribution minister Ram Vilash Paswan, here at Bigyan Bhawan on Tuesday, said that the Odisha government has set up 26 consumer counseling centers in the State. He said that the 31 district consumer dispute redressal forums in the State will be expanded in next 6 months.
The minister urged the Centre to provide financial assistance for implementation of supreme court's order to introduce model rules for State and district consumer forums.
He also demanded that the government of India release the State's dues and receivables towards the food subsidy immediately.