Bhubaneswar: The new office bearers of Odia Society of Singapore have taken over the charge and started preparation of the Utkal Divas celebration in April, next.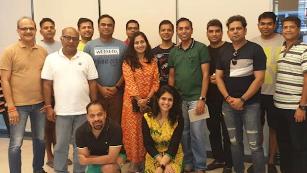 The newly elected president Alok Panda, while expressing his gratitude to the members, acknowledged the contribution of the outgoing president Sambit Mishra and other office bearers to the Society. Mishra,in return, wished that the Society will be strengthened under the leadership of Panda. Mishra also thanked the outgoing office bearers for their support to him during his tenure as president.
" The newly elected body is expected govern the society with greater bonding of Odias in Singapore and take to newer heights with an aim to make it among Singapore's most progressive and vibrant societies", said the newly elected president Panda.
On the afternoon of 2nd November 2019, the Odia Society of Singapore elected its executive body. The General Meeting was chaired by Sabyasachi Mishra in the presence of L. H. Ong, a CA specializing in society accounts and affairs.
The five office bearers who were elected uncontested were Alok Panda (President), Subrat Nayak (Vice President), SubhadiptaTripathy (Secretary), BibhutiMallick (Asst. Secretary) and Dharma Acharya (Treasurer). The remaining six elected committee members included Prasanna Kumar Jena, Pratyush Hota, Reela Patro, Swagatika Mishra, Soumya Singh and RupakSahu. Ranjan Sahu and Soumya Pal were elected as auditors.