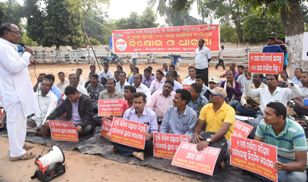 Bhubaneswar: The State Assembly has been adjourned for indefinite period much before the scheduled tenure of the winter session.
However, the Gandhi Marg in front of the Assembly is crowded with demonstrators. Various unions, organisation and groups those had planned to press for their demands when the House is in session had no other way than to demonstrate their strength in the State capital.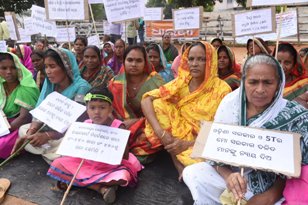 Monday, the BEd and MEd students of Fakir Mohan University and North Orisha University demonstrated demanding that their course be recognised by the State government and they be allowed to sit in for OTET, OSSTET, CTET examination which would qualify them to be school teacher.
A group of dalits demonstrated alleging that the Cuttack Development Authority (CDA) has usurped their 18 acres of land in a fraudulent way. The 180 dalit family demanded that their land in CDA Sector 13 in Cuttack be given back to them.
The Odisha Federation of Temporary Launch Drivers and Khalasi has sit in on Dharna on the Gandhi Marg demanding regularisation of the service of the contractual launch drivers and porters.
Photo: Amulya Mohanty