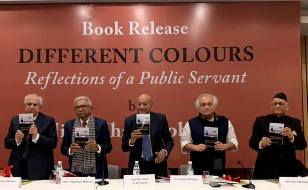 New Delhi: Former IAS officer from Odisha cadre Nilamadhab Mohanty's memoir book –Different Colours- Reflections of a Public Servant – was released, here on Saturday.
Former chief justice of India GB Patnaik, former union minister Jairam Ramesh and former foreign secretary Lalit Mansingh graced the book release function.
Educated at Ravenshaw College, Cuttack, Nilmadhab Mohanty has been a career civil servant and worked for his cadre State Odisha and the Central government. He also served the government of Papua New Guinea (PNG) in South Pacific. He retired as government of India industries secretary and chairman of the Foreign Investment Promotion Board (FIPB). He then worked for about a decade in top management positions of the Vienna-based United Nations specialized agency, UNIDO (United Nations Industrial Development Organisation). He is now with the policy-think tank, the Institute for Studies in Industrial Development (ISID), New Delhi, as Honorary Senior Fellow.
With world wide assignments and varied experience, Mohanty's memoir is an exciting journey of a civil servant.
Former Odisha cadre IAS officer SN Tripathy and several former and present Delhi based Odisha cadre IAS officers were present on the occasion.