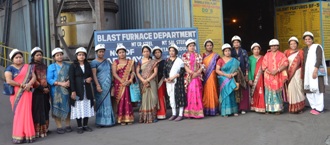 Rourkela: The Rourkela Steel Plant (RSP), as a part of its HR initiative, 'Pragati Re Pathe….. Aama Parivar Aama Sathi', a plant visit programme was organised for the spouses of employees of Plant (RSP) on Friday. Spouses of 17 employees of Plate Mill department were taken for sensitisation tour around the different units of the plant.
A K Pradhan, CGM, Plate Mill presided over the welcome, orientation and interaction sessions. Also present were N. Mohapatra, GM in-charge, Plate Mill (Operation), E Oraon, GM in-charge, Plate Mill (Mechanical), S K Deo, DGM in-charge, Personnel (Rolling Mill & HRP) and other officers of the department. A video on safety was shown to the visitors.
Pradhan and other senior officers in their address thanked the visitors for their unstinted support and described them as key partners in the progress of the plant. They urged them to encourage their partners to adhere to safety norms and standards.
The visitors were taken to Blast Furnace no.5, Steel Melting Shop – II, Hot Strip Mill-I and Plate Mill. During the visit the guests were briefed about the process of steel making and the importance and contribution of Plate Mill in the profitability of the Plant.
The plant visit was organized and coordinated by S C Parichha, Junior Officer (Personnel).