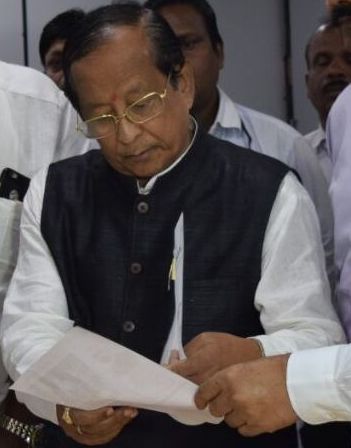 Bhubaneswar: The Odisha Assembly's budget session had a stormy start on Friday with opposition created pandemonium forcing the speaker to adjourn the House for the day.
As soon as Governor Ganeshi Lal started reading the achievements of the State government, senior Congress leader Narasingha Mishra stood up protested. Later, members of the Congress party staged a walkout from the Assembly.
The Congress members later joined the proceedings of the House. After expressing condolences to former ministers (Bhagabat Mohanty, Jagannath Rout) and members (Satchidananda Deo, Bhagirathi Das, Radha Govinda Sahu, Daittari Behera, Naka Lachhimaya and Gourahari Naik) of the House, Congress leader Tara Prasad Bahinipati protested over absence of officers in official's gallery.
Expressing dissatisfaction over speaker's reply, Congress members trooped into the well of the House. Members created a ruckus in the House. Speaker Surjya Narayan Patro then gave a ruling that put an embargo on media to cover the proceedings of the House at that hour.
Protesting the ruling, BJP members entered the well of the House. They alleged that theruling is unconstitutional and undemocratic.
When ruling party chief whip Pramila Mallick was speaking on motion of thanks on Governor's address, members from opposition BJP and Congress created a ruckus, which then forced the speaker to adjourn the House for the day.