Bhubaneswar: Shubha Sarma, civil servant and author, is back with her second literary work – "The Awasthis of Aamnagri."
The Book was launched in a virtual ceremony graced by the likes of Jnanpeeth laureate Padmashri Pratibha Ray, eminent bilingual author Dr. Debasis Panigrahi and Executive Director of Sambad group, Tanaya Patnaik. The event was also streamed live over several channels and social media platforms of Bakul Library and Niyogi Books.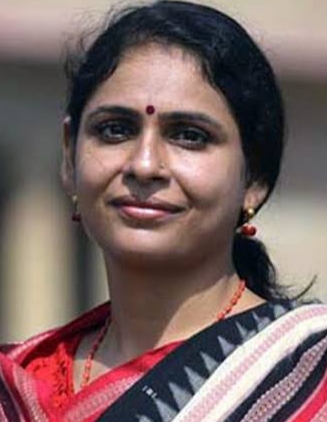 Published by Niyogi Books, "The Awasthis of Aamnagri" is a novella set in the Hindi heartland that also takes Sarma back to her roots in Lucknow. The book traces life of the middle class family – as the name would suggest – in a setting of the 70s and 80s.
It begins with the Awasthis embarking on the quest for a bunglow and what follows in their individual lives as well as the joint-family system is told by Sarma with subtle humour and satire, often harking back longingly to the slow-paced life in her growing-up days.
Speaking on the occasion, Dr.Pratibha Ray said:
Good News in bad times, a silver lime in dark cloud is always welcome with praise and pleasure. A book is born in times of corona and that too a novel with labour of love and passion is happily welcome.

The title of the book speaks a lot and attracts the readers to go through the pages. From the page I have gone through, appears to be an engrossing tale of the journey of a family through lives, to find its own purpose. Family is a central concern of writing from the subcontinent and its diaspora. Home is the home of all great literatures. The world's two great epics, Ramayana and Mahabharat are family dramas. Pearl.S.Buck's "Good Earth" and Gabriel Garcia Marquez's "One Hundred Years of Solitude" are tales of families. Both are Nobel Prize winning novels.

Shubha's absorbing tale unfolds the saga of a family holding on to its customs value, from sarees and sequins to conflicts and tensions, and a sense of displacement. The free flowing, spontaneous narrative style is appealing and thought provoking, which disarms the reader.
Novel writing is not a pass time hobby, a fashion, or a profession, it's a passion – but not an easy task. It's a continuous thought process not a day dreaming but dreaming day and night.

I appreciate your work and admire your focus at finding time in crafting this novel, creating the tapestry of words despite your professional commitments. There are many IAS poets but very few novelists.
Debasis Panigrahi said:
Shubha is a gifted writer and has a wonderful command over the language, often laced with lyrical grace.Deeply observant and perceptive, she is a fine story teller. The Awasthis of Aamnagri has all the ingredients of a best seller.
Tanaya Patnaik said:
"There is something about families, especially the Indian joint family, that can capture the imagination of even the most blasé being. Shubha Sarma's narrative of the Awasthis is fun, engaging, effortless and most importantly nostalgic of a time that has been lived and lost".
An Odisha cadre IAS officer, Sarma's debut book "Fly on the Wall & Other Stories," an anthology of 13 short stories, was released in 2013 to critical acclaim.
In "The Fly on the Wall & Other Stories", Sarma looked at varied subjects – from up-market, urban settings to the depths of rural Orissa and areas of civil strife and deep social unrest, stringing together anxious house-wives, over-imaginative teenagers and men and women in the sunset of their lives.
In "The Awasthis of Aamnagar", she captures a different world in a different mood. "Aamnagri" where the plot is set refers to "Aam" or mango which Sarma uses as a metaphor for the sweet-sour-messy middle class life in an emerging urban landscape.
AUTHOR'S QUOTES
"In today's fast paced routines, a strong thread of nostalgia runs through our lives, especially in those above the age of thirty-five. It emerges in the most unlikely places and at the most unlikely times: whatsapp forwards that reminisce about the good old days, twitter trends and handles that specifically speak about growing up in the 1970s, 1980s or even 1990s, an old ad jingle or a brand, anything that triggers fond memories. I wanted to capture that period in our lives when summer vacations were long, languorous and full of a game of cards, when the greatest worry was not losing all your contacts stored on your smart phone."
Sarma, now Commisioner-cum-Secretary, Handloom, Textiles and Handicrafts Department with Government of Odisha, looks at two target groups for her new book: the 35-plus readers fondly looking back at the past and trying to ensure that his/her children read it to understand how they grew up as well. She also has on mind the young reader who enjoys going into the past to explore a different time.
"Just as for every Simba, there is a Kalank, there are readers who enjoy an oldfashioned setting. Though the book is primarily set in the Hindi heartland, the structure of Indian families and the tussles within the family are fairly universal, from Punjab (if not Kashmir) to Kanyakumari," she sets the context.
She deliberately chose English to reach out to a wider audience but says she intends to translate it into other languages subsequently.
AUTHOR'S BIO:
Born and brought up in Lucknow, Shubha Sarma is an alumnus of Lady Shri Ram College and Jawaharlal Nehru University and a member of the Indian Administrative Service. A Yoga practitioner, she enjoys travelling, swimming and tending to her bonsai collection. She currently lives in Bhubaneswar with her husband, two sons and four dogs.
Her debut book, Fly on the Wall & Other Stories was launched in 2013 and was translated into Hindi and Italian. It received rave reviews from readers and critics alike. Her body of work displays strong characters and reflects the changing times that confront us. This is her second novel.