Balasore: Tata Power Northern Odisha Distribution Ltd (TPNODL), a joint venture between Tata Power and the government of Odisha, Wednesday launched its Mission "Saurayan" with the aspirational objective of solarisation of all feasible domestic units in its license area and all its office buildings through rooftop solar units.

To mark the initiation of the mission, the first rooftop solar unit has been commissioned today at the SLS Memorial Residential School, a prestigious institution nurtured by the President of India at Badampahad, Rairangpur. The school will receive power supply through the 6 KWp rooftop solar unit as well as from the three-phase connection provided by TPNODL. It was a historical moment today when CEO TPNODL inaugurated and switched on the rooftop solar power unit of SLS Memorial School, thereby initiating the aspirational Mission Saurayan.
Present at the event were principal of SLS Memorial Residential School and Sarpanch of the Badampahad Panchayat among others.
Through the Mission Saurayan, rooftop solar units would be commissioned on 307 office buildings of TPNODL as well as all feasible domestic dwelling units in the area of TPNODL. The MNRE Govt. of India has allocated 2500 megawatts of rooftop solar capacity to be installed by TPNODL under this mission.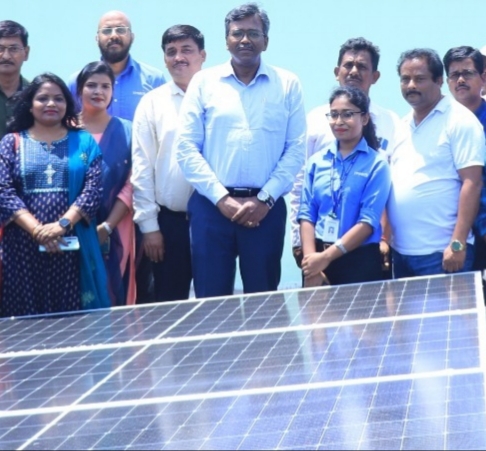 TPNODL is also actively pursuing the solarisation of the prestigious Kalam Island of DRDO under Ministry of Defense, Govt of India and pioneering the introduction of 18 nos Miicrogrids first time in Odisha to electrify households of remote districts of Mayurbhanj and Keonjhar. Further TPNODL is also driving a project of solarization of the agricultural lift irrigation pump sets across its area of operation under the PM KUSUM C scheme of Govt of India whereby a total load of 2 MW has been allocated by MNRE for the year 2023-24.
Recently, OERC has agreed to the proposal of all four Odisha Discoms to have a very innovative funding mechanism for the farmers under PM KUSUM C in which 30 percent of the cost will be subsidized by the Central Government, 30 percent will be provided by the State Government, and another 30 percent through loans facilitated by Discoms, and only 10 percent to be borne by the farmers to own the solar generation unit under KUSUM C for a lifetime. The loan proceeds will be funded through an Escrow arrangement out of the sale of surplus solar power by the farmers @ Rs 3.60 per unit after meeting the cost towards their own consumption as per extant RST tariff.
All the solarization initiatives of TPNODL will henceforth be brought under the umbrella of Mission Saurayan.

TPNODL CEO Bhaskar Sarkar said, "We at TPNODL are proud to launch our Mission Saurayan with the objective of Solarisation through rooftop units, in line with the vision of the Government of India to achieve carbon neutrality. With the commissioning of the first rooftop solar unit at the renowned SLS Memorial Residential School, founded by President Murmu, we have taken a significant step towards a sustainable future. Through Saurayan, we aim to expand our rooftop solar mission to 307 office buildings of TPNODL and all feasible domestic dwelling units in our area of operation."