Bhubaneswar: ArcelorMittal Nippon Steel India (AM/NS India) CEO Dilip Oommen commended Odisha AM/NS India Gymnastics High Performance Centre during his maiden visit here while expressing confidence that each athlete would eventually bring laurels to Odisha and India.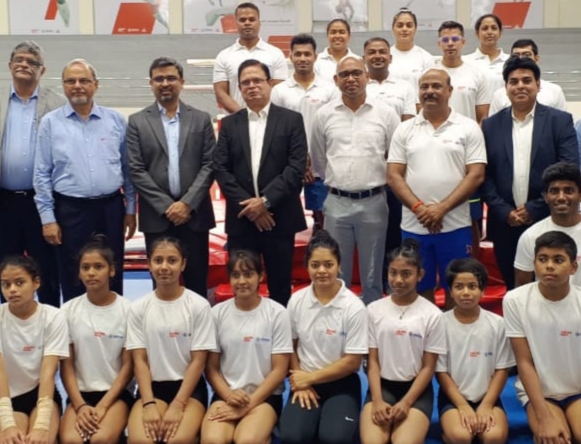 Present on the occasion were Ranjit Parida, Odisha sports department deputy secretary, Ashutosh Telang, VP HR & Administration, AM/NS India, Rajiv Bhatnagar, ED Odisha Projects, AM/NS India, Arun Rath, Head Brown Field Projects, Odisha, AM/NS India, Ashok Mishra, Head Coach of the centre, trainee gymnasts and other officials.
On this occasion, Oommen said, "It is really wonderful to see the budding talents being trained under the guidance of highly skilled coaches at this incredible academy. Here, we have all that it takes to make and nurture exceptional gymnasts."
"At AM/NS India, we always pursue excellence and give our best in everything that we do. Today we are one of the best steelmakers globally, supported by two of the world's leading steel manufacturers, ArcelorMittal and Nippon Steel. Now, we aim to give our best to the wonderful talents of the country through this academy. Last year, we had teamed up with the Government of Odisha for Kho-Kho and Odisha Juggernauts team, which won the Ultimate Kho Kho Championship. This year also, with all the support of our Hon'ble Chief Minister Shri Naveen Patnaik and the Department of Sports, we endeavour to walk on the path of success for our country. I personally believe one must have faith in self to become a winner. So, believe in yourself, dream big and I wish the academy the very best."
ArcelorMittal Nippon Steel India (AM/NS India) – a joint venture between ArcelorMittal and Nippon Steel – has partnered with the government of Odisha to promote and grow the sport of gymnastics in India and transform Odisha into a premier gymnastics' excellence hub. During the recent official visit of Odisha chief minister Naveen Patnaik to Japan, the MoU for setting up a Gymnastics High Performance Centre was signed on April 8, 2023, at Kyoto between government of Odisha and AM/NS India. The teams worked diligently and managed to complete the facility within a remarkable timeframe of just two months.
The 'Odisha AM/NS India Gymnastics High Performance Center', a facility housed in the Kalinga Stadium in Bhubaneswar is meant for senior athletes participating in the 'Elite Senior Gymnastics Programme'. Additionally, it includes three 'Odisha AM/NS India Gymnastics Academies' located in Puri, Jeypore, and Rourkela for grassroots level athletes.
AM/NS India will operate these activities under its CSR initiative 'Udaan' and aims to train 360 sportspeople every year with world-class coaching by international and national gymnastics coaches. The athletes will receive international and national exposure in addition to academic support.
Beginning the groundwork, the talent scouting camps were organised from 7th-11th May 2023 in Bhubaneswar and Puri to identify gymnastic prodigies across different categories, from juniors to seniors & grassroots. Spearheaded by Steve Butcher, the Programme Director, and Ashok Mishra, the Chief Coach, the trials witnessed an exceptional turnout of 228 aspiring and seasoned athletes showcasing the remarkable enthusiasm of the participants. The participants underwent a series of trials and assessments meticulously designed by the experts to evaluate their technical proficiency, physical capabilities, and overall potential.
Aimed to identify exceptional gymnastic talent from across the country, the Talent Identification Camps for the Odisha AM/NS India Gymnastics High Performance Centre (HPC), Bhubaneswar were conducted from 7th and 8th May 2023. As many as 13 girls and 22 boys belonging to Odisha, Uttar Pradesh, West Bengal, Haryana, Assam, Delhi, and Tamil Nadu were selected for the Elite Senior Gymnastics Programme under three categories of Senior, Junior & Sub-Junior- Men & Women. These athletes will be trained under the Elite Senior Gymnastics Programme. In Puri talent, scouting was done on 10th and 11th May 2023 wherein 49 athletes (25 girls and boys) aged between 8-11 years from Odisha and Assam were selected for the Youth and Grassroots Athletes Training Programme.