SUNIL KUMAR BANSAL, SUNIL ROY & SURENDER PANWAR  QUALIFY FOR THE APEX SCALE  
Bhubaneswar: Like their counterparts in IAS cadres, at least three senior IPS officers of Odisha cadres have qualified to be promoted to the rank of DG. The 1987 batch IPS officers,  Sunil Kumar Bansal, joint director SIB,Madhya Pradesh (central deputation) , Sunil Roy, director cum additional director general intelligence
, and Surendra Panwar, joint director
National Crime Record Bureau(central deputation),  have completed 30 years of service and are  now eligible for the promotion to the apex rank.
According to Indian Administrative Services Cadre Rules 1954, IPS officers completed 30 years of services are supposed to get apex scale of pay. Similarly, the Clause 4(2) of the Administrative Cadre Rules 1954 has empowered the state government to create temporary posts to accommodate the All India Services Officers in the apex posts.
Currently, there are four posts in the DG ranks in the state . While the DGP KB Singh and DG fi
re services and home guard  Dr.Binay Behera are officiating in cadre posts, DG vigilance Dr.RP
Sharma and DG Crime Branch BK Sharma are holding ex-cadre posts. Abhaya, Pradeep Kapur and M Nageswar Rao, now on central deputation has been given proforma  promotion to the rank of DG. Abhaya is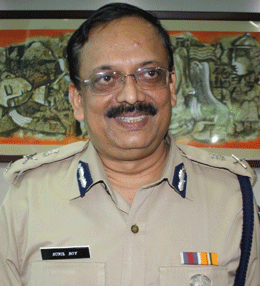 , director (training) BPR&D,  Pradeep  director CIRA, NTRO, and Nageswar is in CBI.
All the 1986 batch IPS officers have been promoted to the rank of DG. Now, the turn of the 1987
batch IPS officers to be elevated to the rank of DG. The three 1987 batch IPS officers have completed 30 years of service as on 01.01.2017 and are waiting for their promotion for the last six months. While Sunil Bansal and Surendra Panwar are on central deputation, Sunil Roy is in the state cadre. The government invoking the power conferre
d on it by Clause 4(2) of the Indian Administrative Services Cadre Rules can create temporary additional posts in the DG rank to accommodate these senior police officers. While Sunil Roy will be elevated in the state cadre, Bansal and Panwar could be given proforma promotion.
Recently, the state government invoking the Clause 4(2) has promoted five senior 

IAS officers of 1986 batch to the rank of chief secretary and placed them as additional chief secretary in their respective postings. The officers are home principal secretary , Asit Tripathy, MSME principal secretary, LN Gupta , forest & environment principal secretary, Suresh Mohapatra, KBK chief administrator, Sudarsan Pal Thakur, and higher  education principal secretary, GVV Sharma.
The state has three cadre posts and three ex-cadre posts in the apex rank. While AP Padhi is the chief secretary, R.Balakrishnan is the development commissioner. Sunil Kumar Bhargava is the chief resident commissioner at New Delhi, Sangram Kumar Mishra is the director general of Gopabandhu Academy, Vipin Saxsena is the member board of revenue, and Gagan Dhal is the agriculture production commissioner.
While the 1986 batch IAS officers have been promoted to the apex scale, four senior IAS officers of 1987 batch are awaiting their promotion to the chief secretary rank as they have completed 30 years in service as on 01.01.2017. The officers are finance principal secretay Tuhin Kanta Pandey, union MSME department joint secretary, Nikunja Sundray, principal secretary to chief minister, Rajesh Verma and steel and mines principal secretary Raj Kumar Sharma.