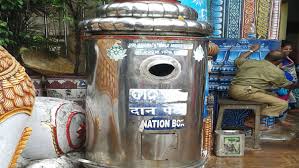 Bhubaneswar: Strange are the ways the devotees appease their Gods. They offer donations in Rs 500 and Rs 1000 notes that were demonetised in November, 2016 in the Hundis.
The Puri Sri Jagannath Temple administrator(Niti), Maheswar Panigrahi,  Friday said Rs 3 lakh worth of Rs 500 and Rs 1000 notes were found in the temple Hunidis. The notes were dropped in the Hundis between July 10 and July 20.
The temple Hundis have, in fact, received scrapped currency notes to the tune of Rs 12 lakh ever since the prime minister Narendra Modi declared demonetisation of Rs500 and Rs 1000 in the night of November 8, 2016.
Panigrahi said that the Temple Administration has written to the Reserve Bank of India (RBI) to consider the matter and exchange the old notes.
Since keeping demonetised notes after December 30,2016 is illegal, the donation notes have become a matter of concern for the Temple Administration.