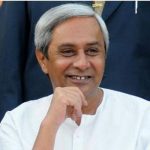 Bhubaneswar: Chief minister Naveen Patnaik, who fell sick due to high humidity condition of the weather Tuesday morning while delivering the Independence Day speech, has advised the  children to drink adequate water to beat the sweltering heat.
"Must tell all you kids out there to drink adequate water before going out in sun", Naveen twitted soon after returning to Naveen Niwas.
"Should have had adequate water for parade in sunny humid conditions. Felt bit dehydrated. Perfectly fine now with 2 glasses of nimbu pani. Attending rest of days programs", he has further twittered.
The chief minister has thanked all in response to the "Get Well Soon" messages by lakhs of his followers. "Thanks for your wishes", he has twitted.