Bhubaneswar: 'Na Mu Kariparibi', a play on women empowerment was staged by Wonder Women theater group here at Railway Auditorium on Thursday.
The play, written and directed by Sujata Priyadarshini, is about aspirations, resilience and inner strength of women in their mid-life. For women nothing is impossible and she can do anything, face any challenge and can face any problem. In this male dominated world these kind of play not only should motivate the women but the men also.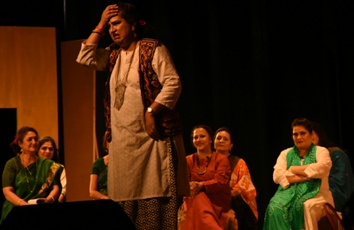 The Wonder Women is a group of women coming from all walks of life who have come together to send a message that women can do wonder through this play.
Annapurna Dash played the role of Wonder Women with all grace and gradeur. The other actresses of the play who chipped into make it a grand show were Tanaya Patnaik, Shradha Padhi, Rita Tripathy Pati, Gargi Bhattachajee, Revati Pany, Aruna Mohanty, Priya Lenka , Sucheta Priyabadini, Sanghamitra Senapati, Sonie Rath and Pranati Das  Off stage who supported play were Rajalaxmi, Subhalaxmi, Sudipta, Paramita and Rosalin Patsani.