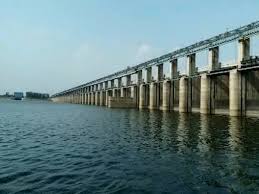 New Delhi: Union water resources, river development and Ganga rejuvenation secretary U.P. Singh Tuesday  handed over reference of Mahanadi Water Disputes Tribunal under Section 5 (1) of the Inter-State River Water Disputes Act (ISRWD), 1956 to Mahanadi Water Dispute Tribunal chairman Justice A.M. Khanwilkar, who is a supreme court judge.
The Odisha government on November 19,2017  had submitted complaint under Section 3 of the ISRWD Act, 1956 to the Central government for seeking constitution of Inter-State Water Disputes Tribunal for the adjudication of water disputes in respect of Mahanadi river between the riparian states of Odisha and Chhattisgarh.  On this, the ministry constituted a Negotiation Committee which held two meetings, but Odisha did not participate in any of the meetings.  Odisha also filed Original Suit 1 of 2017 in the supreme court.  The supreme court in their Order dated 23.01.2018 directed the Central government to constitute a Tribunal for adjudication of disputes on river Mahanadi and also advised Odisha to present its plea before the Tribunal.
The Central government constituted Mahanadi Water Disputes Tribunal on March 12, 2018 with supreme court judge Justice A.M. Khanwilkar as chairman Justice Ravi Ranjan of Patna high court and Justice Indermeet Kaur Kochhar of Delhi high court as members.
Tribunal chairman Justice A.M. Khanwilkar was briefed by secretary (WR, RD & GR) on Tuesday , about the profile of Mahanadi river, development of water resource projects by various states and dispute in sharing of its waters. The chairman was also briefed about the legal provisions for adjudication of water disputes.  The secretary (WR, RD & GR) assured the Justice A.M. Khanwilkar that Central government is taking all necessary steps for early functioning of the Tribunal and sought his guidance on the road-map for resolving Mahanadi dispute.