Bhubaneswar: Tata Steel Tuesday announced that it would bring in a whopping Rs 60,000 crore to Odisha. It is proposing to invest Rs 25,000 crore to ramp up the steel capacity of its Kalinganagar plant from 5 mtpa to 8 mtpa. Moreover, the steel behemoth is taking over the Bhusan Steel Ltd's greenfield steel plant at Meramundali in Dhenkanal district for a sum of Rs 35,000 crore.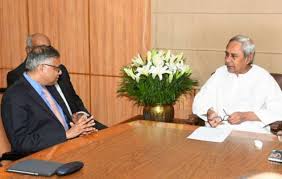 The Tata Sons chairman Natarajan Chandrasekharan along with Tata Steel managing director, TN Narendran, met the chief minister Naveen Patnaik and appraised him about the company's investment plans in the state.
Patnaik suggested that the Tatas should set up a defence manufacturing cluster at Naraj in Cuttack district and a steel downstream cluster based on the liquid metal of its Kalinganagar steel plant. He said that the defence manufacturing cluster be located on the 871 hectares of land now in the possession of the Tata Power.
The chief minister said that an E-Vehicle project by Tata Motors, and a manufacturing unit by Tata Chemicals at Paradeep should come up. Tata should bring in investments to its Gopalpur SEZ and DTA, he told the visiting dignitaries. He also proposed that Tata Industries participate in the World Skill Centre project as an industry partner. He asked for an increase in campus placements in different government engineering colleges, ITIs and polytechnics. Patnaik also asked Chandrasekharan to complete the setting up of the  500 bed super specialty hospital at Sitalapalli in Ganjam district. Tata AIG expedite the payment of crop insurance claims to the farmers of the state. Tata Motors, along with other companies, should consider establishing workshops in some selected government ITIs, he added.
The Tata Sons chairman said that his Group would consider all the proposals and try its best to realise the proposed projects.