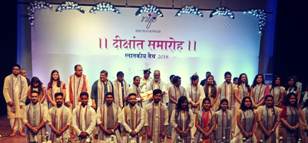 Bhubaneswar: National Institute of Fashion Technology, Bhubaneswar (NIFT-B), one of the top 10 fashion and design institutes of the country,  conferred gold medals to eight students and degress to 179 students from six different disciplines at its Convocation 2018, held here on Wednesday.
Swapnil Pateria got  'The Student of the Year' award  while  Aman Raj got the 'NIFT Extraordinary Service" award on the occasion. For each department NIFT offers one Best Academic Performance Award. This year Swapnil Pateria from PG-MFM, Pragya Ujjwali from B.Des (Textile Design), Rashi Padhiyar from B.Des (Accessory Design), Smriti Johar from B.Des (Fashion Design), Annie Bhardwaj from B.Des (Fashion Communication) and Sandeep Mohanty from BFTech have received Best Academic Performance Award from their respective departments.
The Odisha governor, Ganeshi Lal, graced the convocation . Noted sculptor Raghunath Mohapatra, NIFT director general Sarada Murlaleedharan, dean academics professor Sharmila Dua and NIFT director, Bhubaneswar, professor Sanjay Shrivastava, associate professor Binaya Bhusan Jena were present. The Convocation Brochure 2018 was released on this occasion.
Professor Strivastava said NIFTB has achieved almost 100% placement with some international offers from brands such as Landmark Group (Lifestyle), Epic Group, Must Garments. Most of the regular Indian recruiters such as Arvind Lifestyle, Landmark Group (India), Future Group (Bigbazaar, Central etc.), Tridents Industries, Reliance Brands and Retail, Shahi Exports, Decathlon Sports were also present on campus this year and largely recruited students. There is an increasing tendency among students to startup from the campus now a days and many students are availing the benefits of startup Odisha and Startup India.