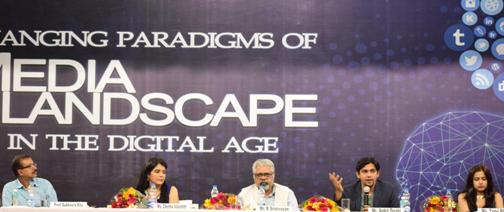 Bhubaneswar: Communiqué -2018, the annual media conclave by IlluminatiX, media and public relations cell of XIMB, was held in the institution campus, here on Sunday. The theme for this year was 'Changing paradigms of the media landscape in the digital age'.
The India Today TV's national affairs editor, Rahul Shrivastava, The Hindu editor R.Srinivasan, creator of InsideIIM.com, Kampus Konversations, Ankit Doshi, ChetChat founder Chetna Vasishth, founder and former CEO of Tanvi Bhatt International Tanvi Bhatt were the speakers of 5th edition of Communique 2018. XIMB professor(marketing) Subhasis Ray moderated the session.
ChetnaVasishth flagged off the three big game changers in the future of storytelling- Technology, Data, and Democratisation of storytelling. According to her, traditional media played a significant role in embedding preconceived opinions and notions among people while, in this golden age of content creation, all one need is an idea.
Srinivasan, shared his reservations regarding investigative journalism. He said that genuine data collection were not being done effectively. He opined that stories should make a difference and media houses should hone on their strengths for story discovery. According to him technology has not changed the process, but just made information easily accessible.
Ankit Doshi stressed the importance of expressing oneself. He said that today everyone is a channel with access to express and people don't need a journalist to interpret their thoughts.
Tanvi Bhatt talked about personal branding and how an individual can be both a medium and the content. She gave a motivational speech asking students to be the difference they wish to bring and turn their dreams into legacies. She further differentiated between a storyteller and a story shaper, while urging the audience to be the latter.
Rahul Shrivastava's video speech was presented in his absence.  According to him the social media becoming a personal evangelizer of audience-centric marketing. He also stated how digitalization has enabled more social participation than before.
Prof.Subhasis Ray moderated the media conclave. AkankshaMohanty, coordinator of IlluminatiX also spoke. On this occasion the winners of the competitions held as a run-up for Communiqué were felicitated with certificates and prizes. This was followed by the release of the second edition of Communiqué, the yearly newsletter by IlluminatiX.