Bhubaneswar: Why JB Patnaik's son Prutivi Ballav Patnaik refused to contest the election? This question must be haunting many in Odisha's political circle.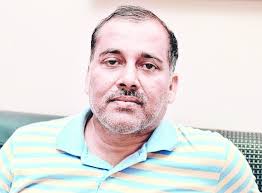 Pruthivi Ballav Patnaik has been offered Congress ticket for Begunia assembly constituency. He, however, expressed his unwillingness to contest the elections at all.
Pruthivi's father was a wily politician. He was the chief minister of state for three terms– consecutively twice in 1980 and 1985 and then in 1995. The senior patnaik was considered to be one of the most powerful chief ministers of Odisha.
Not only that Pruthivi's mother Patnaik was a former Lok Sabha and Rajya Sabha MP. She was also the president of All India Mahila Congress.
However, unlike his legendary father, Pruthivi was shy of politics. Every time when elections were announced his name crop up circulate in media circle.
Pruthivi this time evinced interest to contest elections. In fact, his friends pursued him to jump into the fray.
Pruthivi, who has crossed 50, wanted to join BJD and contest from Begunia. However, somebody in the family conspired a blocked his entry into the ruling party. Then, reluctantly, he wanted to contest from Congress.
So far so good.
But, even in Congress somebody conspired against him. The party which was rebuild and prospered under the leadership of his father, betrayed him.
His ticket came at the last moment. Just one day before the filing of the nomination come to a close.
In disgust, Pruthivi denied to accept the ticket and contest the elections.
"Where is the time to campaign?", he reportedly asked his friends who were keen that he should contest.
His friends are surprised why the Congress which is led by Niranjan Patnaik, brother of BJD Rajya Sabha MP Soumya Ranjan Patnaik(Pruthivi's brother-in-law) hesitated to give the ticket early?