Nabarangpur: The tribal dominated district in the remote part of Odisha is famous for its commercial maize production. Promoted by the State government and supported by Bangladeshi refugees settled in the region and traders vast area of the district has turned to massive maize cultivation.
But, the mono-cropping resulted in conversion of maximum arable land in the district. Heavy use of chemical fertilisers and pesticides, however, have brought ecological disaster as the land has become barren. What is worse, the commercialization of maize cultivation brought more misery to the local tribals as their lands were usurped by the traders and big farmers in the name of mortgage.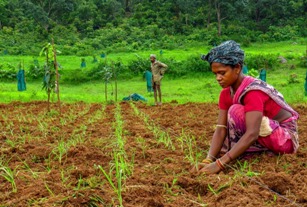 The tribals farmers of Tentulikhunti block, though belatedly, have realised the consequence of the single crop maize cultivations. They have now reverted to their traditional crops like Ragi (finger millet) and other millets and adopted traditional agronomic practices. This year over 200 acres of land have been covered under Ragi crop in the block. Instead of broadcasting, the tribal farmers are going for line plantation (LP) and SMI. Women are on the forefront of this revival as they are the traditional seed-savers.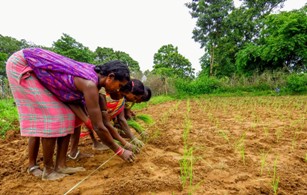 Agragamee, one of the country's most trusted NGOs, has extended the hand holdings to the tribal farmers willing to practice eco-friendly agriculture. Agragamee with support from Karl Kubel Stiftung (KKS), a Germany -based international NGO, is developing 10 Eco-villages in the Tengulkjhunti block to prove a point that the farmers want to go back to their traditional crops like Ragi and other millets and adopt traditional agronomic practices.
"The response has been tremendous", said Agragamee's founder Achyut Das while adding, "Giving up high yielding maize, they have reverted back to ragi/finger millet in 200 acres." According to him, the tribal farmers of Nabarangpur district have to revert back to millets as the government has fixed the MSP for Ragi at Rs31.50/kg.
Das asserted that a new chapter on food and nutrition security has begun.
Impressed by the Agragamee's initiatives, the district administration has also agreed to promote Ragi cultivation in the district in a massive way.
"The Nabarangpur collector has full endorsement of our ideas and activities to revive traditional millets and organic farming in the district", said the Agragamee founder while adding, "Both Millet Mission and PKVY are active in the district". He, however, wondered that Agragamee and Tentulikhunti block have been left out in the Million and PKVY programmes.