Bhubaneswar: The Odisha higher education minister, Arun Sahu, proved himself to be a tough minister .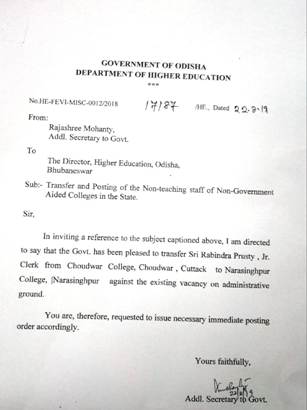 Monday he has transferred a college junior clerk for his undesirable activities in the educational institution. Choudwar college junior clerk Rabindra Prusty has been transferred and posted in Narsinghpur college against a vacant post.
The minister was on a surprise visit to Choudwar college where he came across several complaints against the clerk. Sahu received complaints from the local citizens that the clerk was indulging in various illegal activities ,
Immediately after returning from the visit, the minister directed the higher education director to transfer the concerned clerk from the college immediately. The college principal has been asked to immediately relieve the clerk.
The higher education ministers assertion that the regular lecturers in colleges would remain in the campus for seven hours has created a commotion in the State. The parents and general public are quite happy over the development. However, many of the unscrupulous college lecturers are whining.