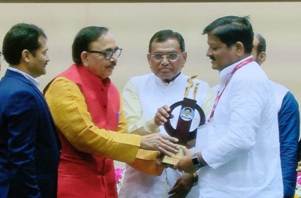 Bhubaneswar: Odisha's panchyatir raj, urban and housing and law minister Pratap Jena received the Fame India Best Minister Award, here on Saturday.
Jena received the Award from union skill development minister Mahendra Nath Pandey.
Fame India magazine surveys the efficiency and delivery capacity of ministers in the country and confer the Best Minister Award every year.
Jena, who has been elected for the fifth consecutive terms to the State Assembly, served the Naveen Patnaik government as minister school and mass education from 2009 to 2012 and health, law and information and public relations minister from 2017 to 2019 before becoming the panchayati raj and urban minister in the fifth term from 2019.