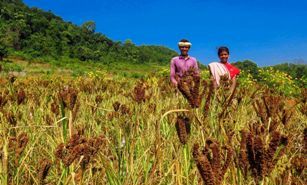 Nabarangpur (Odisha): Farmers in the tribal dominated Nabarangpur district has returned to millet cultivation resisting the lure of the commercial maize crop.
Motivated by NGO Agragamee led by Achyut Das, some 270 farmers have taken millet crop this karif season. The bumber harvest has made all of them smiling standing in the midst of the field.
"With strong belief in the concept and practice of Food and Nutrition Security as well as Food Sovereignty, Agaragamee has been promoting extensively millets in the eco-villages of Tentulikhunti block in the district. The initiative has been supported so far by Karl Kubel Stiftung (KKS), a German International NGO as Odisha Millet Mission has not reached the area so far", said Das.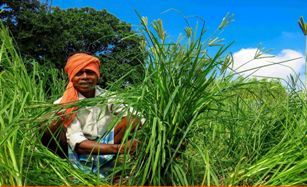 "In an area where the commercial and chemical maize crops have dominated at the cost of traditional millets, it is a paradigm shift now in many ways. Three cheers to the millet growers, especially women who have taken a historic decision to change from maize to Ragi and from chemical agriculture to ecological agriculture. I wish every village in Nabarangapur is part of this change and given a chance Agragamee will facilitate the process involving all stakeholders.
As farmers started harvesting millet, the district collector has directed for procurement of ragi at the government notified rate of Rs 31.50 per kg from the farmers. The CDAO has visited the Tengulikhunti block with whole team and discussed the modalities of procurement even as the block is yet to be covered under Odisha Millet Mission.
The former Odisha State Food Commissioner, Ramlal Jamuda, has twitted: "Very good news indeed ! Let us encourage them and support them by ensuring timely procurement and prompt payment."