Bhubaneswar: Odisha's first and only Urdu daily Akhbarnama celebrated its 8th anniversary, here on Tuesday.
The Odisha governor, Prof. Ganeshi Lal, graced the occasion as chief guest and State Panchyati Raj, Law and Housing minister Pratap Jena as guest of honour. Calcutta University professor Maqbul Islam was the chief speaker. While president Dilip Kumar Bisoi presided over the meeting, newspaper's managing editor Sk. Riaj Mahammad gave the welcome address. Editor Sk. Siraj Mahammad graced the occasion.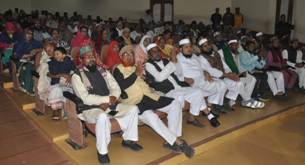 Six eminent persons were honoured with Akhbarnama Award 2020 for their accomplishments. Mahammad Abdul Bari, Abdul Wasid Khan, Moulana Sayed Najibul, Amin Bariki Quasim, Salma Azmi Banu, and Sanjid Rehmani were conferred with the Awards by the governor..
Speaking on the occasion, the governor said that it is politics which cause division in the society while cultural and language unite people. He said God is the same who created all of us and it is we who worship him in different forms. The governor called upon the people to shed narrow feelings to make the society rich and prosperous.
The chief speaker said that there is a close similarity between Sufiana culture and Vedanta.