Bhubaneswar: BJP Rajya Sabha MP Subramanian Swami and CPI(M) national general secretary Sitaram Yechuri warned the Modi government at the Centre that the country's is facing imminent risk of plunging into economic catastrophe. They were speaking at the 10th edition of 'Foresight', an annual conclave of Odisha's premier television news channel OTV, here on Saturday.
Swamy, while becoming highly critical over 'mishandling' of the economy by Modi government, predicted a very scary scenario for future and warned that there are very real fears over the collapse of financial institutions in the country.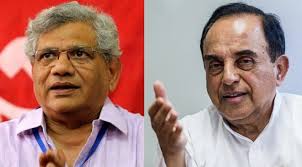 "The economy is in a tailspin, spins or incremental reforms cannot kick start the slowing economy. A heavy dose of stimulus is what needed," said Swami. He was speaking here at the 10th edition of OTV's annual conclave 'Foresight'.
Expressing a clear disapproval over the handling of the economic slowdown by the Modi government, the explosive politician while delivering his address on the topic "Slowdown and Beyond: Ideas for a Sustainable and equitable recovery of the Indian Economy", claimed that the tell-tale signs of economic slowdown were present in 2015.
"I have talked in great details about this in my book 'Reset: Regaining India's Economic Legacy'. Even I have written many letters to PM Modi. But it seems the PM and the PMO haven't taken a serious note of my inferences and advisories on state of Indian economy," Swami quipped.
Diagnosing dip in consumer demand as the root cause behind the ailing economy, Swamy, a distinguished economist himself, called for abolition of the Income Tax. He ticked off former RBI Governor Raghuram Rajan for, what he called, his fundamentally flawed approach to link inflation rate to bank rates.
"The approach of Raghuram Rajan to link interest rates with inflation is akin to a doctor killing a patient to bring down his high body temperature," Swami lampooned and added that Rajan's policy has smothered the growth of small and medium industries in the country.
Citing adduce to his argument, the volatile leader said currently the prime lending rate (PLR) in the country is quoted at in between 12-15 per cent; whereas the PLR in US is mere 2 per cent. He added, "Many Indian investors are seen going for external commercial borrowings (ECBS) to fund their projects here."
Modi's government's ambitious 5 trillion dollar economy target by year 2024 has also come in for a sharp criticism by Swamy. He said, "In order to achieve the target by 2024, the country has to grow by 14.5 per cent per annum. In contrast, the GDP growth rate in 2019-20 is projected to grow at mere 5 per cent.
Participating in a Q&A session later, the maverick leader said the Niti Aayog economists cant's say 'no' to PM Modi. He again called the GST the 'biggest madness' of the century.
The CPI(M) leader said that only government stimulus can save the country from this economic crisis. He said that public spending in building quality infrastructure would spur demand and thus the economy.
Earlier, delivering her welcome address, OTV managing director Jaggi Mangat Panda, said it's crisis that seeds reforms. She also sounded a caution in reporting economy news.
She said, "Hard data on economy is far slower than speculation driven data. Utmost prudence needs to be maintained while presenting data on economy. Because, people's expectations of the future are largely the result of negative news reports."