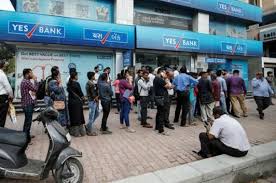 Bhubaneswar: As the Yes Bank facing serious payment crisis, what has happened to the Rs 80 crore deposited in the bank by the Odisha government horticulture department?
This is the question that is going round in the power corridor here.
The former horticulture director, Bijaya Ketan Upadhya, had deposited Rs 79.2 crore meant for Rastriya Krushi Vikash Yojana (RKVY) in Yes Bank. Upadhya, the 2009-batch IAS officer who was arrested by the vigilance police on corruption charges, has also been suspected to have transferred the money from Canara Bank to Yes Bank with ulterior motive.
However, after the arrest of Upadhya, the State agriculture department instituted an inquiry into the transfer of money from public sector Canara bank to private bank like Yes Bank. Large scale irregularities have been found in the procedures followed to transfer the amount.
Following the advise of the agriculture department financial advisor Chinmoya Kabi the money has been returned to Canara Bank. The smart action of the senior OFS officer has saved the RKVY money from being locked in the beleaguered Yes Bank.
India Whispers over heard in the horticulture directorate that the fund from the Yes Bank was transferred to Canara Bank in tranches.
Meanwhile, the Odisha government is facing flak for depositing Rs 545 crore Jaganath Temple Fund in Yes Bank. The oppositions have raised question about the fate of the Lord Jaganath money.
The State law minister, Pratap Jena, however, assured that the money is safe.
"We have decided to withdraw the amount from the Yes Bank", he said. Stating that the funds were parked in fixed deposits, he said on March 16 and March 29 the deposits would be matured, he said then the amount would be shifted to some public sector bank.