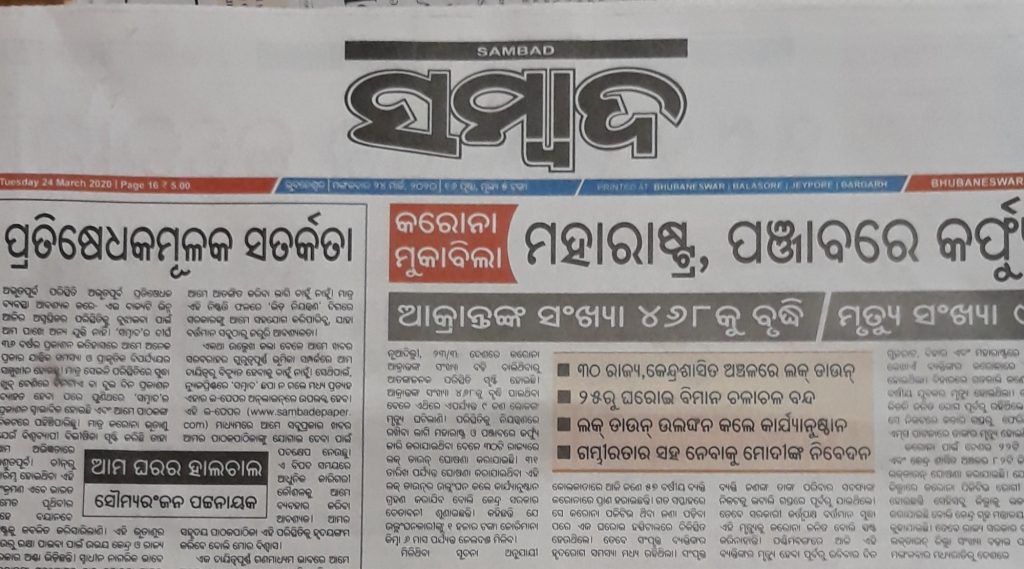 Bhubaneswar: Coronavirus finally scared the Odisha's largest selling newspaper to suspend publication. This is perhaps for the first time in the country a big newspaper suspended its publication to contribute to fight against one of the worst health crisis the nation is facing.
Sambad, Odisha's largest selling newspaper has declared on Tuesday to suspend its publication from Wednesday.
The newspaper's editor Soumya Ranjan Patnaik, in a signed Page1 editorial has announced that the publication of the newspaper will suspended for a week. The edition of the paper will not hit the stand from March25 to March 31.
Patnaik has stated in his write up that when the nation in general and the State in particular under lockdown to minimize social contact, " We took the decision to cooperate the government in controlling the crowd".
The Sambad editor has said: When the government has restricted gathering of more then seven people at a place. Hundreds of people are required to work to bring out the newspaper. So we decided to choose to join the nation to fight against the COVID-19 with all sincerity and dedication."
Sambad Group however will to come out with its e-newspaper edition daily.
" We will, however, discharge our duty as a media house," he said adding, "all the news will be provided to the the people through www.sambadepaper.com".
Sambad decision has been hailed in all quarters. At a time when the Central government and the State government are dumping advertisements wort crores of rupees to create awareness about the deadly virus and when some newspapers are hecticly lobbying to grab a pie, Sambad's decision suspending publication certainly set a new precedent in the war against COVID-19, said an editor of a small newspaper.