Bhubaneswar: BJP's high profile MP Aparajita Sarangi has coughed up fines for violating rules.
The IAS turned politician has paid the fine for violating the Covid-19 Rules 2020. She had gone with her followers to the house of party's estranged leader Jagannath Pradhan throwing into wind the Covid-19 Rules of social distance and wearing of mask.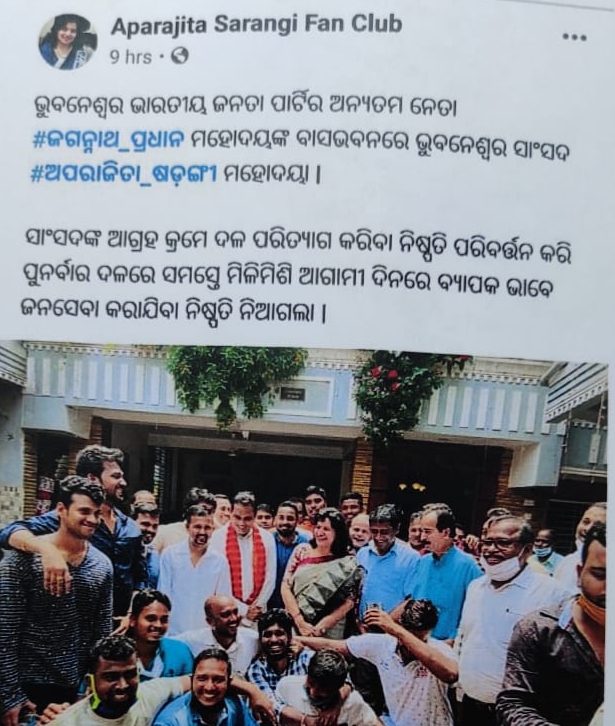 The Bhubaneswar Lok Sabha member, in fact, paid Rs 100 as the fine of her own and posted the information in her Twitter. She had said she had to show respect to the sentiment of the people.
Sarangi had gone to Pradhan's house to persuade him to take back his resignation. Pradhan had resigned from the party protesting against appointment Babu Singh, a spported of Aparajita, who had switched his loyalty from BJD to BJP just before the general election.
The Bhubaneswar police DCP Anup Kumar Say has twitted that fines have been collected from 21 political leaders and workers for violation of Covid-19 Rules.
Meanwhile, two social activists Jogesh Chandra Jena and Mallcik Samim Akhtar have filed an FIR with the Bhubaneswar capital police station complaing that the local BJP MP had violated the Covid-19 Rules. She had moved with her followers with out wearing masks and without maintaining social distance, they have alleged.