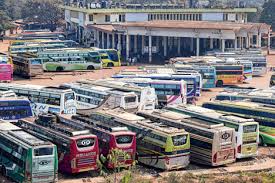 Bhubaneswar: With automatic pricing mechanism in place, the bus fares in Odisha increased by 3 paisa to 6 paisa per kilometer.
The Odisha Private Bus Owners' Association secrtary Debendra Sahu Tuesday said, that the private bus fares have been increased through automatic mechanism system in Odisha following constant rise in fuel prices. He said that while the ordinary bus fares have increased from 67 paisa to 70 paisa per km, the fares of Express buses increased from 70 paisa to Rs 1.01 paisa per km. The fares for AC Deluxe buses has been hiked from Rs 1.17 per km to Rs 1.23 per km, he added.
According to the automatic mechanism system, bus fares are increased by one paisa for every Rs 2 hike in fuel prices. The fuel prices in the State has increased for the 10 consecutive day on Tuesday making diesel costlier by Rs 5 per liter.
It was in March 21, 2020, bus fares in the State were decreased due to decrease in the fuel prices.