Bhubaneswar: Internationally reputed architecture magazine Dezeen has featured Odisha government's Krushi Bhawan.
The government building in the capital city of Bhubaneswar, State head quarter of agriculture, fisheries and animal husbandry department, has been designed by New Delhi based Studio Lotus.
"The brickwork elements that wrap the upper floor create a pattern designed to emulate Odisha Ikat, a traditional dyeing technique from the eponymous Indian state", writes the magazine.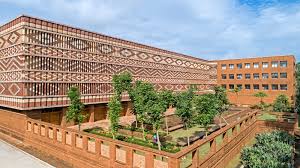 "Along with being a workplace for 600 staff, the site also houses spaces for education and community engagement."
"Studio Lotus pitched these additional facilities to the client after they looked into German architect and planners Otto Königsberger's original plans to make Bhubaneshwar's government offices a focal point for city life," adds Dezeen
Dezeen quoted Studio Lotus saying, "This attempt to include the building into the public domain has been achieved by designing the ground floor as a free-flowing public space that opens out into a plaza, which is an extension of the street."
The plaza has an amphitheatre, and a garden with a pond to naturally cool the space. Entrance is via a pathway lined with trees and stone colonnades, which doubles as a shady place for employees to eat their lunches.