Rourkela: Odisha chief minister Naveen Patnaik Friday launched a mega programme 'One Step Ahead', in virtual mode, for development and promotion of grassroots hockey across Sundargarh district. The programme organised by JSP Foundation in collaboration with Dilip Tirkey Sports Research and Development Foundation (DTSRDF) aims to nurture budding hockey talents in the district.
Chief minister in his video message applauded the efforts of JSP Foundation and DTSRDF and said that it will further strengthen the hockey at grassroots level.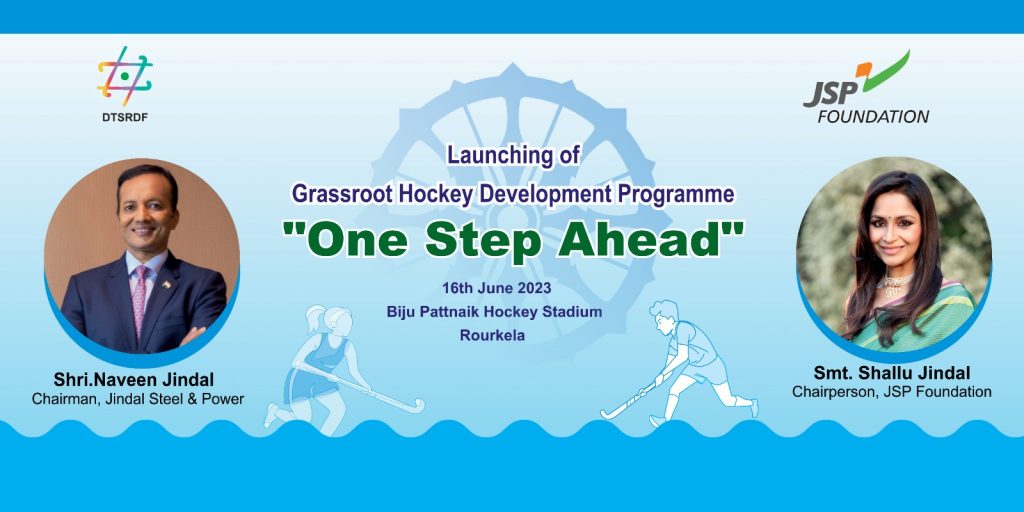 Minister of Labour & Employee State Insurance Sarada Prasad Nayak, Minister of Skill Development & Technical Education Priti Ranajn Gharai and Minister of Sports & Youth Services Tushar Kanti Behera and chairman of DTSRDF Padma Dr.Dilip Tirkey were present in the programme held at Biju Patnaik Hockey Stadium at Rourkela and encouraged the players. Chairman of Jindal Steel & Power Naveen Jindal and Chairperson of JSP Foundation Shallu Jindal in their messages reiterated their commitment to support grass root hockey and transform the initiative as a movement to build the future of Hockey . More than 5000 players, under the age of 15 years, from 215 villages joined the launching programme.
In her message , Shallu Jindal said "Odisha Hockey will go a long way if children are provided with proper training and other necessary learning environment to play at the right age. We are committed to nurture and nourish young hockey talents in the villages. With the joint efforts of JSP Foundation and DTSRDF, we shall transform the quality of grassroots level hockey in the state". "It's not a program for me, it's a movement, beginning of a huge transformation in the field of hockey. I am sure this initiative will result in creating national and international players from rural Odisha," she added.Naveen Jindal appreciated the Hon. Chief Minister and Odisha Government for promoting Hockey in not just Odisha but across the Country. He assured that aligning with the efforts of Govt of Odisha , JSP will extend all necessary support for promotion of hockey and development of more rural talents and there by build and sustain the future of Hockey in India.
"Grassroots hockey is the foundation, if we strengthen it, we will never look back. Our first responsibility will be to find the right talent and train them properly so that not a single good player is left out," said Dilip Tirkey, who is also the President of Hockey India.
Government of Odisha has set up astroturf hockey field in each Revenue block of Sundargarh for encouraging grass root Hockey. JSP Foundation has provided Hockey Kit, Hockey Sticks, balls and Jersey to 5000 budding talents across 10 revenue blocks of the district. DTSRDF has mobilised and identified talents at the grassroots.
MLA Subrat Tarai, Sundargarh SDC Chairperson Binay Toppo, Former Minister Mangala Kisan, Olympian and Son of Hockey legend Sri Dhyanchand Ashok Kumar, Virendra Lakra, Ignesh Tirky, former Hockey Coach Dronacharya Awardee Ajay Bansal, and former Captain of Women's Hockey Subhadra Pradhan also attended the programme.
JSP Foundation felicitated Dominic Toppo with Rs. 25000 for dedicating his life in coaching rural youths and producing 13 international hockey players.
JSP Foundation will provide sports kits, nutritional support and other academic support to the emerging players, who will be identified and trained by DTSRDF. DTSRDF will also organise different events and tournaments to develop the rural talents.
Prashant Hota, President & Group Head (CSR) of Jindal Steel and Power (JSP) conducted the program and thanked all the guests and children present. Under his supervision, JSP's DGM CSR Virgil Lakra, DTSRDF's Rakesh Mohanty and Raju Mohanty managed the program successfully.