Dhenkanal: Rungta Mines Limited (RML), a leading TMT Bar manufacturer in India, organized a highly successful Channel Partner's Meet at its Dhenkanal steel Plant, Odisha. The event brought together channel partners from various parts of Odisha, providing them with a valuable platform to network, exchange insights, and learn about Rungta Steel's products, initiatives, and future prospect.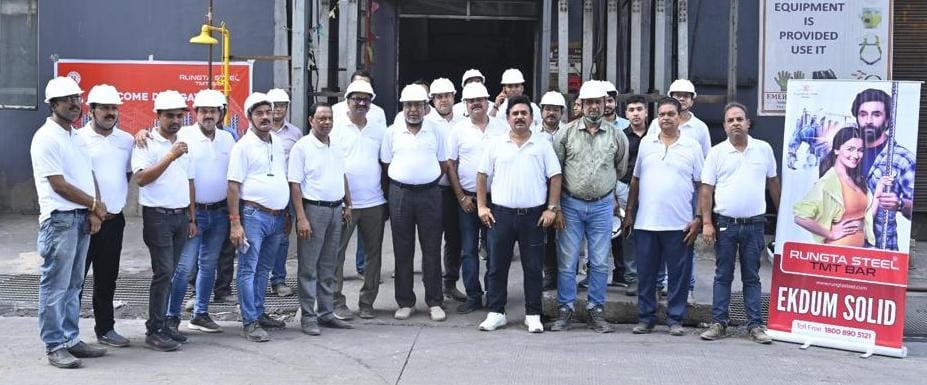 The Channel Partners Meet witnessed the participation of 25 prominent channel partners from Odisha. This gathering of representatives from different regions of Odisha fostered a collaborative environment, encouraging shared success and learning.
Rungta Steel Chief General Manager & Head – Sales and Marketing (TMT & Wire Rod) Arvind Kumar expressed his heartfelt gratitude to the company's extensive distributor network for their participation and contributions, which greatly contributed to its resounding success. He emphasized Rungta's commitment to valuing the insights and perspectives of its partners, recognizing that their input will not only shape the company's future but also strengthen collaboration to achieve mutual success.
During the meet, the channel partners were given an opportunity to take a tour of the manufacturing unit, enabling them to gain a deeper understanding of the superior quality and benefits offered by Rungta Steel product portfolio. This first-hand experience further solidified the bond between Rungta Steel and its esteemed channel partners while also establishing a platform for open dialogue and feedback.
Rungta Steel places great value on the insights and perspectives of its partners. This meet provided a platform for the channel partners to voice their concerns, share suggestions, and offer feedback, fostering a stronger collaboration between the company and its valued network of distributors.