BJP' CM Face: Saha May Introduce Dharmendra Pradhan as BJP's Chief Ministerial Candidate.
Prabudha Manthan: Saha will meet Lawyers, Doctors, Journalists, Writers, CAs from across the state.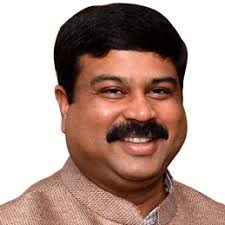 Bhubaneswar:The BJP national president, Amit Saha, is going to 'lay the foundation stone for the Mission 120' during his three day visit to the state from September 6, 2017. Saha may introduce the new cabinet minister, Dharmendra Pradhan, as the BJP's chief ministerial candidate for the state during this visit.
Saha will take as many as 27 meetings during the three days at Janata Maidan, which has been converted into a air-conditioned auditorium. He would have secret meeting separately with various groups. Saha will meet the party functionaries, committee members of all the morchas, and member of all the cells. He would also meet the Prabudhas– intellectuals and professionals in groups.  The meetings will be with lawyers, doctors, chartered accountants, journalists, economists, writers and litterateurs. The party is organizing to bring in these people from across the state to Bhubaneswar.
Importantly, Saha is going to meet the leaders of various castes and communities in the state in separate meetings in one of the three days.
Saha's visit will be culminated in a meeting with about  75,000 committee members of  1001 Mandals in the state. This would be for the first time in the history of BJP party that the national president is going to meet the Mandal committee members in a group.
The Odisha BJP is planning to turn the Bhubaneswar city saffron for the three days. Party flags, festoons, posters, cut-outs and hoardings will be displayed to welcome the party president. All the arrangements have been made in the sprawling Janata Maidan in Chandrasekherpur area for the meetings. The party is taking steps to keep the meetings secrets. Persons without passes would not be allowed to enter into the makeshift auditorium. Meanwhile, the commiserate police will take over the Janata Maidan and the BJP party office in Unit 3 area for security reason as Saha has been provided z-security.