New Delhi: Odisha received the highest Rs 5933.98 crore Campa Fund in the country. Chhattisgarh and Madhya Pradesh got Rs 5,100 crore each.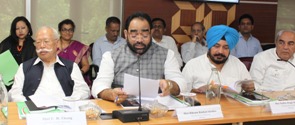 The Odisha minister for forest and environment, Bikaram Keshri Arakhu, received the cheque of Rs 5933.98 crore toward Campa Fund (Compensatory Afforestation Fund Management & Planning Authority) from the union minister for environment, forest and climate change Prakash Javedekar, here on Thursday.
Odisha's efforts in creating new forest and conserving existing forest was praised in the State Forest & Environment Ministers conference, held here at the Prayabaran Bhawan, under the chairmanship of union minister.
Odisha, which is the fourth largest State so far as forest cover is concerned, has increased its forest coverage by adding 885 square km of forest during the last two years by afforestation and forest protected measures.
The State had received Rs 2,644 crore in 9 years between 2009-10 and 2017-18. Out of this, the State had already utilised Rs 2,607 crore or 92% of the fund received by now.
Claiming that Odisha is pioneer in spending Campa fund in a transparent way, Odisha minister Arakhu said in the meeting that the Centre should provide Rs 591.52 crore grant under Campa in 2019-20 for afforestation, wildlife management, forest conservation and capacity building. He has asked Rs 38 crore for construction of Campa Capacity Building Centre and 2% as administrative expenses.
Odisha forest principal secretary Mona Sharma, principal chief conservator of forest (PCCF), Sajiv Tripathy, chief conservator of forest Uma Nanduri also attended the meeting along with the minister.